Back from lunch and scanning the news....oh, how I do love Google News!
Earlier today, the US backs off Iraq Resolution. I also just discovered that even the US Army has a blog now. (via Guardian UK weblog). In other surprising news, Apple is pulling out of Macworld, leaving me to wonder what the show will be about? Oranges? Blackberrys? Also, Wired has a very snazzy UI for changing the type size on a web page. Read more about Wired's redesign using XHTML/CSS.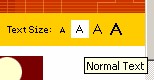 Finally, only in Singapore, where mobile phone penetration is 75%, would you see this story: Singapore SMS: Tlk Drty 2 Me, which claims "that mobile devices are going to be the primary means of tracking biological patterns. Cell phones are lifestyle design tools. They've become a part of the body." Yeow.